Firearms training
& nv ccw
What Students Are Saying...
2023 hunters challenge
Had a great time! Met lots of super good folks and saw old friends. The shoot was challenging enough to really make you think and pay attention to your surroundings/environmentals while also getting enough hits to keep your confidence up. Definitely will plan on going next year!
Long Range Class
An excellent introductory course that covered everything from the proper set up needed for a precision rifle, to the science involved in long range target engagements and hands on time at the range to put the lessons into practice. The class room portion was clear and at a level that all could understand. Instructor to student ratio allowed plenty of time for thorough questions and answers. Overall, the lessons learned during this class will be very beneficial for upcoming hunts and work related applications.
TAC-1 for LEO Course
I had the pleasure of being able to attend this training through my agency. After having gone through the course, I would recommend Jim to any shooter looking to improve their fundamentals and efficiency with a handgun. Jim was very professional and provided excellent critiques and techniques.
Level up with the Kraken
I had the privilege of spending an afternoon training with Jim, and highly recommend him to anyone wanting to level up their shooting accuracy and speed.
Incredible Class!
I attended a two day course with Jim focused on pistol training. I can't say enough about Jim and the experience as a whole. My mechanics and shooting improved drastically in a short amount of time. Jim is a very capable teacher, and his passion for shooting and sharing knowledge is very evident. Not to mention you probably won't go any longer than a few minutes before the next laugh. This was not my first class with Jim, and it won't be my last.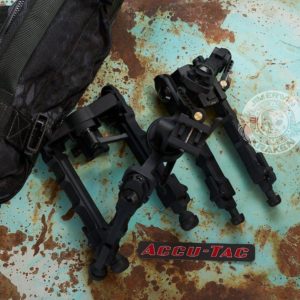 Jim's Accu-Tac Bipod Review I've been carrying a gun for most of my adult life and earned a living using them for the majority of
Read More »
As a Brand Ambassador, I provide unique and genuine content for a brands marketing and social media team. I have over 25 years of combined experience in Army Special Operations, high threat/executive protection, firearms training and big game hunting. I also have 10 years of experience in gear sales to the military and civilian world.