Firearms training
& nv ccw
What Students Are Saying...
LONG RANGE PRECISION
When you have a subject matter expert, who instructs this day in and day out, is as giddy as you are at your inevitable success. That pretty much sums up the experience with Jim. Knowledgable, personable, professional, and credible are what you are looking for in any instructor. Jim and his compadres have it nailed down. I'm a lifetime shooter/hunter and had no idea how little I knew. Jim took what I had, tweaked it, corrected it, and improved it. By the second day everything started to come together and while I certainly have a way to go, 1000 yards with my out of the box rifle and scope were a done deal. Jim and company are up close and personal and immediately available for feedback, critique, and praise. Fantastic crew and experience. Hell, I'd pay just for the camaraderie, but I'll be going again to improve upon my new knowledge and skills and inevitably to correct self-taught bad habits.
Defensive Handgun course at the Police Institute Fresno, CA
Great course given by an excellent teacher. The classroom work breaking down the mechanics of good shooting was enlightening. Jim's approach is down to earth and accessible. He has great deal of patience and can point out what needs to be worked on. We were able to do some movement drills to experience what its like to shoot in a fluid environment. I never get the chance to do that and look forward to going to train at his school in Nevada.
Defensive Pistol Training
Jim's teaching style is such that as a student I understood his methods, embraced his mindset and profited immensely from his professionalism. Jim's Defensive Pistol training was a great first step in becoming an engaged, aware defender of my own & my family's safety. I am looking forward to taking the next step in Jim's program as soon as possible. Thank you Shooting Performance Institute!
Defensive Handgun Courses - Great Training
I took the September 2021 training at the Police Science Institute in Fresno, CA and thought the level of instruction was time well spent. As someone who has mostly shot static targets on the range, this class taught me so much more about how to handle firearms outside of that environment. Techniques like holster management, shot accuracy under stress and practicing live fire exercises while moving on the range. Not something you get to do often on an indoor public range.
Jim mixes the training with real world examples and his experiences that make the class so much more interesting than watching videos or just reading about it. I also appreciated the attention to safety when we were shooting on the range.
Take the class – well worth your investment in time.
Great Training
Back with Jim for Tac Pistol 7/18: The class was great. Jim's back ground makes him unique. HIs down to earth style, his self humor, and his ability to teach make him a more unique person. He seamlessly transitioned from students who struggled to hit the card board the target was on to those kept their hits inside the circles. He told us what to do then demonstrated the drill/scenarios for visual learning. Instructor Jim was able to adjust each drill and scenario to challenge each students different abilities. He fixed my long term problem, with an ocular shift, to pick up the sights quicker. Jim taught everyone in the class to be a better shooter. At the end of class, he debriefed everyone one and asked if there were any unanswered questions. All questions answered. Tac Pistol was a top notch experience. Thanks Jim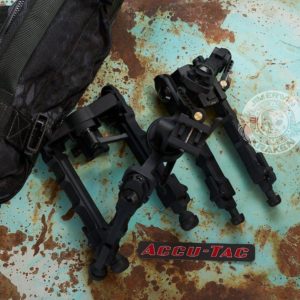 Jim's Accu-Tac Bipod Review I've been carrying a gun for most of my adult life and earned a living using them for the majority of
Read More »
As a Brand Ambassador, I provide unique and genuine content for a brands marketing and social media team. I have over 25 years of combined experience in Army Special Operations, high threat/executive protection, firearms training and big game hunting. I also have 10 years of experience in gear sales to the military and civilian world.