Firearms training
& nv ccw
What Students Are Saying...
More than I expected
I live in Washoe county and had many instructors to choose from for my CCW class, but I saw Jim Erwin's website and decided to go with him. I couldn't have been happier. Jim is a very good instructor, he's funny, and he obviously knows as much as anyone. I'm looking forward to taking some private classes with him soon. I can't imagine there being a more knowledgeable teacher in the area.
Incredible Instructor! Incredible Class!
From the start at 8am, I knew this was going to be a great class. Enjoyed myself so much that when I looked at my watch it had already been 4 hours in. Jim"s classroom instruction was thorough, and precise, just like his marksmanship. His ability to teach the fundamentals and more has me scheduling additional training with him. Because of this initial class I have the confidence needed to protect myself and my family at a moments notice. I am looking forward to my family going through his course and my additional training to further build my skills . Thank you Jim! See you soon!
Absolutely Fantastic!
I took the CCW class and it was awesome. Jim is legit and he knows his stuff. He had all of our attention and presented the information thoroughly and clearly. He also had us laughing quite a bit which kept the mood lite. Out on the range was where this guy amazed me. He took shooters and with very little coaching, helped them improve immensely. His style and his experience really solidify the information he imparts. You just can't help but to shoot better with him. I plan on telling any and all how great his course is and I plan on signing up for more classes.
I HIGHLY RECOMMEND THIS IF YOU WANT YOUR CCW IN NV. You can't do better.
Excellent Teacher
Jim's classes have not only been educational, but fun and I sincerely enjoy all of it! He's helped me get much more efficient with my handgun and I'm really grateful for all his help!
Awesome class
I cannot express how happy I am that I took my CCW class with Jim. My husband and I had been talking about me taking a class for a couple of years, and I honestly was dreading it. I wasn't looking forward to sitting through the material and was nervous about shooting with an instructor I wasn't familiar with. Jim instantly took away all my doubts and nerves. The class was extremely informative, and the help that Jim gave while shooting was amazing. I want to set up a private lesson just to learn even more from him. Definitely worth the money and time to take this class!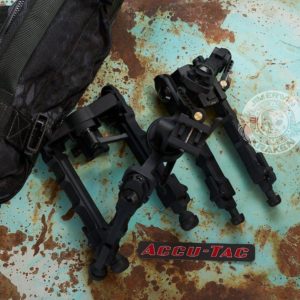 Jim's Accu-Tac Bipod Review I've been carrying a gun for most of my adult life and earned a living using them for the majority of
Read More »
As a Brand Ambassador, I provide unique and genuine content for a brands marketing and social media team. I have over 25 years of combined experience in Army Special Operations, high threat/executive protection, firearms training and big game hunting. I also have 10 years of experience in gear sales to the military and civilian world.