Firearms training
& nv ccw
What Students Are Saying...
Already waiting for the next one!
Jim was way better than just your average classroom 'teacher' he really did have a way of getting all of us engaged in the conversation, and taking charge of our own learning. The class was enjoyable, Jim is not only very knowledgeable, but he knows how to convey that information over to his students in a way that everyone can understand. I'll absolutely be back for more classes hopefully in the very near future!
Simply the BEST!
I am utterly speechless as to how much more prolific I became with a firearm in a matter of a couple hours. Not only did he teach me techniques; but explained the practical purpose and how they related to real life situations. Not only did he explain it but he explained it in a manner I could understand. Jim watches you throughout the training session and turns every movement and action into a teaching session. I am extremely fortunate to have been introduced to Jim and Shooting Performance Institute. I would recommend him to all my family and friends.
Incredibly Valuable!
While I have shot for years and considered myself a pretty proficient shooter, the difference that Jim Erwin made within hours was astounding.
Albert Einstein is quoted with saying: "If you can't explain it simply, you don't understand it well enough." This is embodied in Jim instruction. Not only is Jim able to express what he is trying to help the shooter accomplish, but his explanations are clear and understandable. The coaching, the drills, and the insights, are all top-notch and I consider myself fortunate to have run across Jim and the Shooting Performance Institute.
CAN'T BE TOPPED.... PERIOD!
There simply is not enough space to say what an AMAZING trainer Jim is. He has trained myself & my 13 Year Old Son. We have attended Private Training Sessions as well as Group Classes. Jim absolutely will never disappoint you! But it doesn't stop there… He genuinely cares about your individual success as when you enter the world you are a part of Team Kraken and HIS reputation. He is always willing to answer the phone after the fact to make sure you are on the right track. In a world filled with choices, I wholeheartedly believe you should train with someone who has done it and was one of the elite, that's Jim. My son and I have never finished a training with Jim that didn't include booking our next time slot.
CCW Class
I recently took my CCW class with Jim. I was extremely nervous for more than one reason. One I was not able to practice as much as I would have liked and two I never was very good at testing in school. When I first got to the class and met Jim I was immediately reassured that he was going to be a incredible teacher. The way he went over everything he expected so that there was no unknown and he answered all questions that anyone asked with no judgement. I know in the one day that I spent in the class I leaned more then I thought I would including proper placement of you hands, feet and body when shooting and why they should be that way. He made sure that we all understood and would be completely prepared if we were every in a situation that we had to use out firearm to defend ourselves. When we were testing at the range he was very supportive and encouraging, he made me feel that there was nothing to be nervous about. I would recommend this class to anyone that I know wishing to get there CCW. I know I will be taking additional training from Jim to better myself when using any firearm.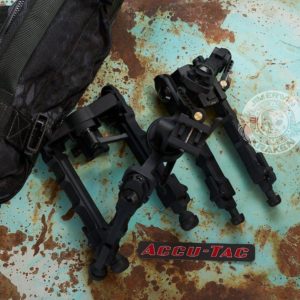 Jim's Accu-Tac Bipod Review I've been carrying a gun for most of my adult life and earned a living using them for the majority of
Read More »
As a Brand Ambassador, I provide unique and genuine content for a brands marketing and social media team. I have over 25 years of combined experience in Army Special Operations, high threat/executive protection, firearms training and big game hunting. I also have 10 years of experience in gear sales to the military and civilian world.