Firearms training
& nv ccw
What Students Are Saying...
Team Kraken, used and APPROVED
Joined Team Kraken figuring "what the hell" i don't know if I'll get out of it what I put in. Got EVERYTHING I put in and more!! The group of like-minded people he put together was awesome! Not only was the group great but Jim himself is an amazing man to work with and more then willing to help with any question you may have. Jim, thanks for all your help and advice!!
Worth the time!!!
Will definitely be using him, in the future for more training. Experienced to say the least, very knowledgeable guy. Enjoyed my time and new experiences.
Ladies, take a class with Jim! (Guys, you too!)
I've had my revolver for about 10 years for in-home self defense. It sits in my bedside easy-access safe, except when I pull it out once in a great while to go to the range or to investigate something my dogs are barking about. I've felt comfortable with my handgun, but I've never been trained by anyone but it (very competent but not a professional) husband. I had the opportunity to take a class with Jim, and I am so glad I did! He is obviously very knowledgeable and experienced, but he is not at all intimidating. He made me feel at ease and encouraged as I went through each drill. He gave such practical advice, and I know I can replicate the drills on my own to continue increasing my skill level. I look forward to further training with him, to build upon the foundation being built. I can not recommend him enough!
I thought it was my gun...
I can't recommend Jim, as an instructor, more. It's easy to be intimidated by his career and accomplishments. But he does a wonderful job of communicating his vast knowledge in a way that doesn't make you feel like a complete idiot. He is patient and really knows how to focus in on any weak points and has the tools to work through them. I was getting increasingly frustrated with my everyday carry gun. I fought and fought with being consistent and accurate with it on the range. I would go out, alone, and try and work it out, to no avail. After only a couple hours doing drills with Jim, I was shooting like I never had before. There were so many fine mechanics, that I had never knew about, that were dramatically affecting my shooting. Bad habits acquired over years and years of shooting. I was honestly considering trying other hand guns to see if that was the issues. Turns out it wasn't the equipment, but the operator. This first lesson only scratched the surface. I cannot wait to get back on the range with him again and take more classes. This stuff could literally save your life.
Great Instructor
Fantastic instructor, great class. Jim takes his years of training and real world experience and produces a class that is safe,
relaxed and personal. He can engage and carry the group while at the same time give very personalized instruction. I felt like I was taking a two day one-on-one class in a group setting.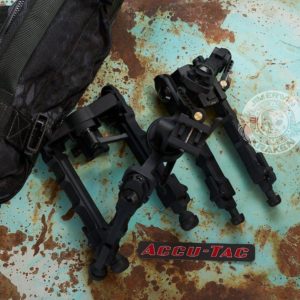 Jim's Accu-Tac Bipod Review I've been carrying a gun for most of my adult life and earned a living using them for the majority of
Read More »
As a Brand Ambassador, I provide unique and genuine content for a brands marketing and social media team. I have over 25 years of combined experience in Army Special Operations, high threat/executive protection, firearms training and big game hunting. I also have 10 years of experience in gear sales to the military and civilian world.