Firearms training
& nv ccw
What Students Are Saying...
CCW
I cannot recommend Jim and his class enough! Relaxed, low key environment. Super knowledgeable and made the classroom portion fun. On the range he was immediately able to identify my issues, communicate fixes, and drastically improved my accuracy.
Thank you!
Excellent training!
I took the March 2022 long range class and it was fantastic. Well taught and easy to learn the material. Jim and the other instructors brought us out on a very windy day and we're able to help get hits out to 1000 yards with relative ease. I definitely felt I learned a solid foundation to build upon. Since the class, I've been getting hits out to 1000 no problem.
Amazing Experience
Jim's knowledge and teaching method are far superior to any instruction I have had in the past and will forever change the way I train with my handgun. I cannot wait to get out west for some long gun classes.
Excellent instructor
Attended a Fundamentals and defensive pistol course taught by Jim today. He obviously knows his stuff and is a self-admitted "geek" of firearms and pistol work. Given that, his teaching style and information sharing is very easy to understand and implement.
As much as I learned just makes me want to go see him and learn more. Good job Sir!
And thank you for your service!
Defensive Pistol Fundamentals - Securite - April 27th 2022
I am fairly new to pistols and all in all Jim Erwin was a fantastic instructor. He broke down each section with intellect and wit keeping the class engaged, and safe. When working on grip and shooting Mr. Erwin was respectful in asking if he could adjust my hands and give me constructive criticism on stance etc. Before shooting Mr. Erwin and the staff briefed the class in the event of an emergency and went over the full safety protocols if something were to go wrong via an accident- which I found helpful and reassuring. I highly recommend attending one of his classes if you are looking to dial into your pistol fundamentals. I have always loved shooting but have been uncomfortable with my grip around handguns being as I was raised shooting rifles, my aim wasn't noticeably poor but there is always room to improve of course. After taking his class I practiced on the weekend, my precision and how I adjust my shooting has changed, I now feel comfortable knowing what to tweak to make sure I am accurate and consistent. The mentality to break down each piece of form really helped. 10/10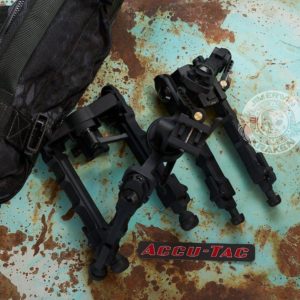 Jim's Accu-Tac Bipod Review I've been carrying a gun for most of my adult life and earned a living using them for the majority of
Read More »
As a Brand Ambassador, I provide unique and genuine content for a brands marketing and social media team. I have over 25 years of combined experience in Army Special Operations, high threat/executive protection, firearms training and big game hunting. I also have 10 years of experience in gear sales to the military and civilian world.