Firearms training
& nv ccw
What Students Are Saying...
Tactical Pistol Class
I took this class over the weekend and I would recommend it to anyone. I'm looking forward to taking it again. My favorite part was running the courses Jim built. Of course this was after Jim fixed some of my mechanics like grip etc.
Tactical Pistol Training
Excellent class, Nine hours of the most informative training. Jim is an excellent instructor and makes this course fun, but informative. Jim is a very patient instructor and teaches his class in a very relaxed, but professional manner! I highly recommend this class for males and females alike. Looking forward to getting my wife in one of his tactical pistol classes. I definitely walked away with more knowledge than I had before the course!
First time shooting experience
This was the first time I have ever handled or fired a 9mm gun. Jim is extremely knowledgeable and patient ,I felt completely safe learning basic gun handling skills, reloading, clearing malfunctions and trigger control. The experience I had with two Private lessons was awesome, which was followed by the Firearms Safety Course/ NV CCW. I am now continuing on to the Tactical pistol class for instruction on moving and stationary shooting.
Excellent Rifle Training
The intro to long range rifle class was top notch. Jim explained complex techniques, proven in the real world, so the beginner can understand them. He can also answer more experienced questions without missing a beat. Only instructor I've attended, who starts the class of by helping you manage expectations with equipment, environment, and ability. This helps the class stay enjoyable. Jim explains the fundamentals with humility and humor. He also breaks down the fundamentals of your rifle's performance. When you leave the class, you will have reliable data on your rifle at distance. Jim introduces technology to assist accuracy. The class had challenging exercises to apply what you were taught and what you practiced. Jim and his instructors always made time to help me when I was struggling, Often, more than one person would be helping out. I learned how to improve the rifle's set up. Jim encourages ethical shots when hunting. I'll be back for more training.
CCW class
I retired from 29 years of LE work and moved to Nevada. My department training and work experience include SWAT, EOD, department firearms instructor, weapons armorer, basic and advanced sniper schools. I have also attended many other outside firearms training classes.
I've competed in three gun competitions and taken first place in a few sniper competitions. I also have an extensive military background as a Navy EOD diver.
I attended Jim's CCW class with my wife and was genuinely impressed with his quality of instruction, humility and humor. He kept our attention and helped us add more information to our knowledge of safe weapons handling and personal security when out and about in the ever changing and often dangerous world we now live in.
If you're reading reviews to determine which CCW class to take, this is it. Whether you're just beginning to become familiar with firearms and firearms safety, or have an extensive background, there is something here for you.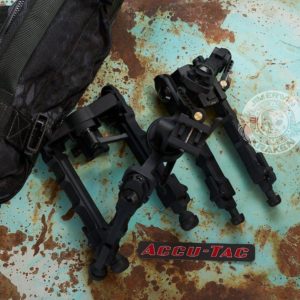 Jim's Accu-Tac Bipod Review I've been carrying a gun for most of my adult life and earned a living using them for the majority of
Read More »
As a Brand Ambassador, I provide unique and genuine content for a brands marketing and social media team. I have over 25 years of combined experience in Army Special Operations, high threat/executive protection, firearms training and big game hunting. I also have 10 years of experience in gear sales to the military and civilian world.