Firearms training
& nv ccw
What Students Are Saying...
Excellent teacher
Jim is so patient with me. I am left handed and 'thought' I would shoot left handed. Jim really helped me work through this with such patience. I shoot right handed better then with my left! His explanations are always helpful. I just don't like when he tells us we have to run up the hill! Funny guy! I'm too old!!
Amazing Class!
Jim is beyond qualified in the art of self defense as well as gun safety, and all aspects of teaching about this craft. Fantastic way to get certified and learn about protection. I especially appreciate that this course is welcoming for all levels.
Jim Erwin's Wife's Perspective
So most people have met me if they have taken a class with Jim. My name is Annaliese and I'm his wife of quite a few years. I've always been a "long gunner" shooting rifles either target or for hunting purposes. Before Jim I had never really shot pistols or even dove down deep into the complexities of long range shooting. With the training I have received from Jim I have become a more proficient long range shooter and have improved leaps and bounds in my pistol craft. Now most couples will say they can not learn well from their spouse, they butt heads and someone usually gets frustrated. This is not the case with Jim and me. I learn from him every time we go out and shoot, whether it be pistol, carbine or long range. He always has so much patience, explains things so I understand and really gives me something new to think about each time we go out. I really think this speaks highly of him as an instructor and I'm not writing this to just write it. If you ask anyone close to us they will attest to everything I have said. He truly makes everything enjoyable and attainable.
Excellent CCW Class! Excellent Instructor!
This recent CCW class was a renewal for me but was the first time for my wife and she was a bit nervous going so I got the ok to come join in and stay with her from the beginning. Jim was great with giving and explaining all the necessary information but also had us laughing throughout the day which really helped with the eight hour session. My wife was comfortable and had a great time. When we were on the range qualifying, Jim gave us a few good tips which we both instantly saw improvement in our performance. Jim is very knowledgeable about what he does and of course you'll get to know that he has all the experience to back it up. As a CCW renewal, I felt this time around wasn't just a good refresher but the way it was delivered was outstanding. We will be referring Jim to everyone as well as going to be setting up future private lessons to further our own firearms training.
CCW Class
Lots of information to get through in this class and Jim made it fun. Great instructor and very patient.
I plan on taking a private lesson and would recommend him to all levels.
Thank you.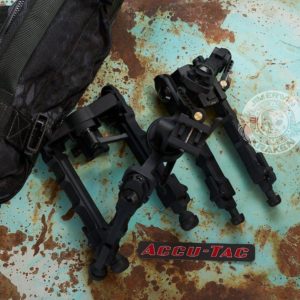 Jim's Accu-Tac Bipod Review I've been carrying a gun for most of my adult life and earned a living using them for the majority of
Read More »
As a Brand Ambassador, I provide unique and genuine content for a brands marketing and social media team. I have over 25 years of combined experience in Army Special Operations, high threat/executive protection, firearms training and big game hunting. I also have 10 years of experience in gear sales to the military and civilian world.