Firearms training
& nv ccw
What Students Are Saying...
Awesome class!
I was nervous about taking the ccw class but Jim and his wife made it totally relaxed. He made it lighthearted and enjoyable and easy to understand. He has excellent knowledge and is very patient with each person in the class. I've already recommended it to a few friends. So grateful I took this class. Not only is it affordable but truly a great instructor with a lot of knowledge and experience. Having his sweet wife there on the range encouraging us as we shot really helped calm my nerves. I'd highly recommend this class.
Great Class & Instructor!!!
Never a dull moment. Upbeat and very informative! Can tell Jim and his team know their stuff. Very hands on and interactive approach which meant we were all attentive and no one was nodding off!
Defensive Shooting Tune-Up 9/12/2020
Jim is the real deal as an instructor. Clear. Articulate. Focused. Solid material that is presented in an exceptionally clear and concise way. And . . . he's not afraid to laugh, crack a joke and be just one of the guys on the line. Six shooters spent around 5 hours on the range getting a tune-up of the fundamentals . . . stance, grip, sight alignment, sight picture, trigger press, follow through. Single round engagements. Accelerated pairs. Movement. Everyone made significant progress. It is a rare thing in instructors when they can take a very complex task, break it down into distinct chunks and then tweak away on a shooter to get the very best out of them. Jim did a great job. Thank you! You can read my complete review at . . . https://eiaft.blogspot.com/2020/09/review-jim-erwin-defensive-shooting.html
Excellent teacher
Jim is so patient with me. I am left handed and 'thought' I would shoot left handed. Jim really helped me work through this with such patience. I shoot right handed better then with my left! His explanations are always helpful. I just don't like when he tells us we have to run up the hill! Funny guy! I'm too old!!
Amazing Class!
Jim is beyond qualified in the art of self defense as well as gun safety, and all aspects of teaching about this craft. Fantastic way to get certified and learn about protection. I especially appreciate that this course is welcoming for all levels.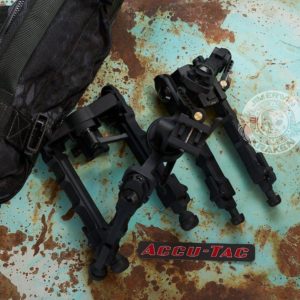 Jim's Accu-Tac Bipod Review I've been carrying a gun for most of my adult life and earned a living using them for the majority of
Read More »
As a Brand Ambassador, I provide unique and genuine content for a brands marketing and social media team. I have over 25 years of combined experience in Army Special Operations, high threat/executive protection, firearms training and big game hunting. I also have 10 years of experience in gear sales to the military and civilian world.