Firearms training
& nv ccw
What Students Are Saying...
Non- hostile
Straight forward with great information lots
Of Comedy…. Instructor has experience and knowledge . Came out of the class learning better shooting Techniques, day flew by.
Thanks lot Jim!!! …let me know when the new hats come in…
Best instructor around
I've taken a prior CCW class and it was good but nothing could compare to Jim's class. He made the 9hr class fly by. I enjoyed working with him so much that we recommended him to my wife's friend for a group CCW class including my wife. I also plan to purchase a private lesson for my wife because I could never teach her as good as Jim. We are lucky to have such a fun and knowledgeable instructor in our area. Don't waste your money with anyone else. You won't be disappointed!
Incredible class, learned a ton!
Jim and Brian were fantastic instructors. Great instruction on the principles and techniques of getting the gun in the fight. Jim had a great balance of teaching and just enough humor to keep the class laughing and learning. Brian was able to go over many medical situations and I feel more confident to provide medical aid if the situation ever arose. Walked away a better prepared shooter and defender of my family and fellow citizens. The knowledge gained far exceeds the money spent on the class! I would highly recommend this class to anyone that wants to be better prepared for the great responsibility of carrying a firearm.
10/10 Instructor and class!
Far and away the most valuable and enjoyable training I've ever had. Jim is the real deal who's got the experience and knowledge to really help out. I'm grateful I got to spend the day with him and his crew and will definitely be back soon!
Great for any level
Have taken more than one of his Pistol classes including my CCW and learn something every time. Improved my Technique and performance in competitions. Thank you guys again for everything.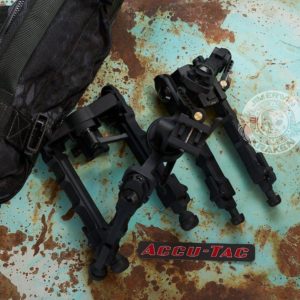 Jim's Accu-Tac Bipod Review I've been carrying a gun for most of my adult life and earned a living using them for the majority of
Read More »
As a Brand Ambassador, I provide unique and genuine content for a brands marketing and social media team. I have over 25 years of combined experience in Army Special Operations, high threat/executive protection, firearms training and big game hunting. I also have 10 years of experience in gear sales to the military and civilian world.