Firearms training
& nv ccw
What Students Are Saying...
Amazing Experience
Jim's knowledge and teaching method are far superior to any instruction I have had in the past and will forever change the way I train with my handgun. I cannot wait to get out west for some long gun classes.
Excellent instructor
Attended a Fundamentals and defensive pistol course taught by Jim today. He obviously knows his stuff and is a self-admitted "geek" of firearms and pistol work. Given that, his teaching style and information sharing is very easy to understand and implement.
As much as I learned just makes me want to go see him and learn more. Good job Sir!
And thank you for your service!
Defensive Pistol Fundamentals - Securite - April 27th 2022
I am fairly new to pistols and all in all Jim Erwin was a fantastic instructor. He broke down each section with intellect and wit keeping the class engaged, and safe. When working on grip and shooting Mr. Erwin was respectful in asking if he could adjust my hands and give me constructive criticism on stance etc. Before shooting Mr. Erwin and the staff briefed the class in the event of an emergency and went over the full safety protocols if something were to go wrong via an accident- which I found helpful and reassuring. I highly recommend attending one of his classes if you are looking to dial into your pistol fundamentals. I have always loved shooting but have been uncomfortable with my grip around handguns being as I was raised shooting rifles, my aim wasn't noticeably poor but there is always room to improve of course. After taking his class I practiced on the weekend, my precision and how I adjust my shooting has changed, I now feel comfortable knowing what to tweak to make sure I am accurate and consistent. The mentality to break down each piece of form really helped. 10/10
Knowledgeable instructor that keeps it fun
I only took a short class but I have already asked my range to bring him back for a longer duration class! The main thing I got from him is my strong hand grip position but I know there is a ton of info in his brain to extract. Men and ladies seemed to do great in the class and he made sure all skill levels were comfortable and progressing!
Outstanding Class
This class was an outstanding experience. Jim and his crew are extremely knowledgeable and patient. Regardless of how much time you've had with a rifle or long range shooting, you'll be sure to gain a wealth of experience by the end of this class. Jim does a great job presenting the classroom portion and encourages lots of questions. I would definitely reccomend this class to ALL levels of enthusiast.
-Dylan G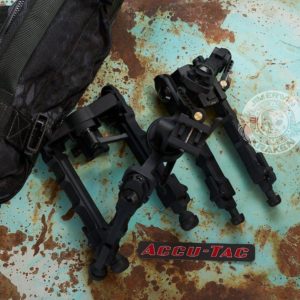 Jim's Accu-Tac Bipod Review I've been carrying a gun for most of my adult life and earned a living using them for the majority of
Read More »
As a Brand Ambassador, I provide unique and genuine content for a brands marketing and social media team. I have over 25 years of combined experience in Army Special Operations, high threat/executive protection, firearms training and big game hunting. I also have 10 years of experience in gear sales to the military and civilian world.