Firearms training
& nv ccw
What Students Are Saying...
Taken 4 and coming back for more!
I've now attended four of Jim Erwin's classes, and the quality of training continues to amaze me.
His approach to shooting breaks down the fundamentals and rapidly layers them into a combat art form; his approach to training has the entire class enjoying every minute of it!
Jim takes the time to address every students abilities one on one, and EVERYONE, from novice students to to experienced LEO's, leaves the class a more competent and capable shooter from Jim's insight, experience, and coaching.
I've been through several "certified" courses. I've taken classes at some of the large shooting "academies." And I have yet to find a course that is more beneficial, or more enjoyable, than those instructed by Jim Erwin.
CCW Renewal
Made the drive from Reno to Gardnerville to renew my conceal carry permit with Jim Erwin. We don't have too many former Tier 1 Operators in Northern Nevada, so I jumped at the chance to learn from the best and Jim didn't disappoint. It was a great class, I learned a lot and I highly recommend Jim and SPI.
Excellent Class
Jim's CCW class is informative, direct, and applicable. There's no ego involved, he'll occasionally insert relevant personal experience, but will move on well before it reaches the point of self-aggrandizement all too common in firearms circles. Male or female, new to guns or experienced, Jim breaks down the basic concepts, checks for understanding and only then continues. I wouldn't go anywhere else.
Great CCW Class
As a first time CCW applicant I wasn't quite sure what to expect. The classroom session was informative and in-depth, you will learn a lot and was interactive. The qualification/range time was great, Jim reviewed safety, grip, stance, and requirements. He is a very personable and makes you feel comfortable. I highly recommended this class, I will definitely take additional instruction with Jim.
Best CCW
Never taken any kind of gun safety class before! Jim not only gave accredited vital information, he made the class absolutely fun! Totally 💯 would recommend taking any class again from him! Plan on getting more in depth training on how to effectively use my handgun and feel more comfortable to carry! Thanks again Jim 🤩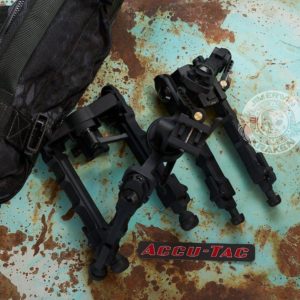 Jim's Accu-Tac Bipod Review I've been carrying a gun for most of my adult life and earned a living using them for the majority of
Read More »
As a Brand Ambassador, I provide unique and genuine content for a brands marketing and social media team. I have over 25 years of combined experience in Army Special Operations, high threat/executive protection, firearms training and big game hunting. I also have 10 years of experience in gear sales to the military and civilian world.